Side Tilt Beds
From: $4,710.00 to $7,410.00
Side cabinets not included - find out more about our Side Cabinet Options
Our Side Tilt (Horizontal Wall Bed) is perfect for when a space is a little tricky. You may have a sloping, or a ceiling of reduced height, or there may be a high window on same wall you would like to put your foldaway bed on. It's also a great option for accommodation or healthcare facilities that may encounter workflow issues with the depth of a vertical bed when open.
Please note: Side Tilt option is not available in King sizing.

Every Tiltaway Vertical Bed Includes:
A genuine Elite Mechanism and Rail Set from Murphy Beds, Vancouver, Canada
Mardeco Handles 3064 in Brushed Nickel, Satin Chrome or Black finish.
Sleepyhead Hotelier Mattress
10 Year Residential Warranty
Assembly/Installation
Finish Options for Tiltaway Vertical Beds:
Side Tilt Pricing

| Size | Melamine | Lacquered | Width | Depth | Height | Depth when open |
| --- | --- | --- | --- | --- | --- | --- |
| King Single | $4,710.00 | $6,310.00 | 2030mm | 403mm | 1200mm | 1245mm |
| Double | $5,210.00 | $6,910.00 | 2030mm | 403mm | 1584mm | 1626mm |
| Queen | $5,610.00 | $7,410.00 | 2157mm | 403mm | 1738mm | 1778mm |
Mattress Upgrade Pricing
| Size | Sleepyhead Hotelier | Sleepyhead Executive | Sleepyhead Executive Plush |
| --- | --- | --- | --- |
| King Single | Included in bed pricing | $440.00 | $550.00 |
| Double | Included in bed pricing | $530.00 | $640.00 |
| Queen | Included in bed pricing | $570.00 | $680.00 |
Here is the Tiltaway quick six step process so your fold away bed can be built and installed in no time!
Step One:
Measure the space where you would like your Tiltaway Bed to go, then pick a bed size and any storage cabinetry you require to fit.
Alternatively - If you are uncertain about what will fit, email us photos and measurements of the room and we will be happy to help.
Step Two:
Select a finish and colour option from our Finishes Page. We are happy to courier melamine samples to you on request.
Consider the right mattress for you. The Sleepyhead Hotelier is included in the price with upgrade options to Executive and Executive Plush models available.
Step Three:
Call, or email, us for a comprehensive quote.
During this communication we will take the time to discuss your location and access feasibility so we can advise you on the best delivery and installation options for your location.
Step Four:
Carefully read over the supplied quote. If you are happy and you would like to go ahead then pleases let us know. If there are any changes you would like to make, now is the time.
Once we have heard from you that you would like to move forward, we can send you an invoice for your wall bed.
The initial deposit to commence manufacturing of your folding bed will be the total less $1,000.00. Once we have received your deposit, we will pop your Tiltaway Bed and Cabinetry into production.
Step Five:
Allow approximately 4-6 weeks from the time we receive your deposit for your project to be completed. Lead times are subject to change and can be influenced by conditions outside of our control. Contact our team direct for current lead times.
Once your bed is out of production, we will be in touch to organise a suitable installation and delivery time.
Step Six:
One of our qualified fitters will arrive on site and fully install your fold away bed (subject to location).
Balance of $1,000.00 required on installation.
EXPLORE
Have a look at our extensive range of colours and finishes!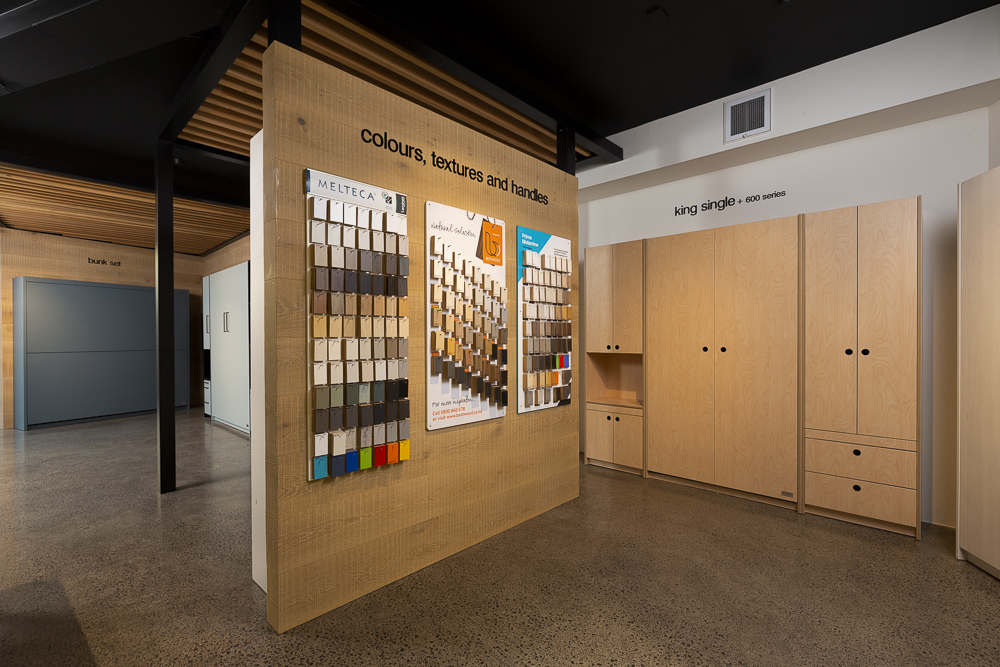 Explore
Our Stanley Street Virtual Showroom tour
Take A Look